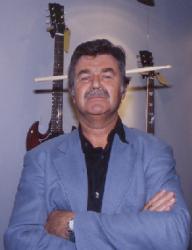 Laughter is very important to musicians. You have to laugh about a career in which the more you learn to master your instrument the less likely you are to make a living playing it.
We are bombarded every day by the media showing us that the way to success in music is to come up with a childishly simple song with as little melody and harmony as possible, a deafening machine generated beat and a thoroughly tasteless and negative lyric sung out of tune. This must be performed whilst jerking and writhing as if recently bitten by a sea-snake.
Any languid and genuinely erotic movement will upset your target audience who are aged eight and a half.
You may wear baggy clothing or scraps of leather, plastic, latex or, best of all, rubber. Any combination of these will appeal to the kiddies who have only just left the toilet training stages of life and remember fondly diapers and other garments of containment.
The revealing of large areas of naked flesh will also increase your chances, especially if the skin is wet or oily. This will remind your viewer/listeners of the occasional failure of the aforementioned garments.
So, my dear striving musician friends, follow my advice, make the millions and retire to Paradise Island before your twenty first birthday.
Except you won't. Hopefully you'll laugh at the above example of cynical humour and go back to enjoying your instrument. Ignore the dross which MTV churns out and search for the best in MUSIC. Along the way you'll find the best in humour too because musicians love to laugh about themselves. And that's the reason for this delightful little book.
I would strongly advise every performing player to keep a copy close by because, if the power goes off, a string breaks, a lip splits, a drum stick cracks or the soprano swallows her false teeth, you can become a stand-up comedian for a few minutes until the show can go on.
That's what I do anyway...
Some of the most amusing lines come out of real life situations. At least I hope they're true, they are so delicious. Here's how I heard them anyway.
Highly experienced session singer, Lee Gibson, is sitting in an empty recording studio ready to begin her work. The Spice Girls march in and are outraged to see her sitting there.
SPICE GIRLS (in dodgy harmony): "What do you think you're doing in here? This studio is booked for us. And who are you anyway?"
LEE: "...I'm your voice!"
Eric Clapton had dicided to change his band and summoned them all to explain his reasons, that the Eric Clapton Band as it had been known for several years would be no more. The excellent drummer was the good-humoured, Steve Ferrone.
STEVE: "That's fine, Eric, but can we keep the name?"
A fine group of  English session guys have turned up to put down some tracks with Bob Dylan in a London studio, among them the tremendously experienced Scottish guitar giant, Jim Mullen. There is no sign of Bob. Hours go by and the great man doesn't appear. The musicians are becoming restless to say the least. Finally an American manager steps in to address the band, who have waited all day.
AMERICAN MANAGER: "Bob won't be coming in today. He's got problems with his Voice."
JIM: "What f ***ing  voice???"
Another story of life on the road with Buddy Rich, as told to me by the one and only Jake Hanna, although the Rotten Kid is only the audience here. The Buddy Rich Sextet has a new piano player and he is in the middle of an exploratory solo, maybe too much Cecil Taylor and not enough Art Tatum. The old-pro sax player takes out his linen handkerchief, opens it and spreads it over the pianists furiously working fingers.
PIANIST: "What the f***  did you do that for?"
SAX: "I'm covering up the scene of the crime."
PIANIST: "You should be careful how you talk to me. I used to be a boxer."
SAX: "Then maybe you should have taken your gloves off before you came to the gig."
Buddy falls off seat with laughter. He loved it when others could be as acidly funny as he was.
Keith Richards, the man who put the stone into Rolling, had invited his father to Paris to see one of their concerts. After the show the entourage made their various ways back to the hotel. Charlie Watts discovered Mr. Richards senior already at the bar enjoying a large cognac.
CHARLIE: "You should take it easy with that stuff, Mr. Richards, or one day you'll look like your son!"
Now these tales and many others have been passed around amongst the musos and we delight in them because they deal with names we all know, and they're funny.
They are also a tribute to those names who can both dish out a comic comment or be on the receiving end. There is no cruelty here and it seems healthy to be able to kid around with one another; something that musicians do a lot. I love the drummer jokes and they have a ring of truth about them.
Whatever instrument you play, I want to wish you a happy and satisfying life doing something you love: making music – how lucky we are. Yes, we certainly need a sense of humour, and you'll find a lot of it here in "The Best Musicians' Jokes"!!!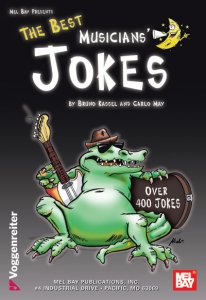 "The Best Musicians' Jokes"


Mel Bay Publications, Inc.
ISBN 0786673001
112 pages
Price: just musician-friendly 9.95 $!!!
Order now at

[Pete York has played with The Spencer Davis Group feat. Steve Winwood (Number One-Hits: "Keep On Running", "Gimme Some Lovin' ", "I'm A Man"), with Hardin & York ("the World's Smallest Big Band"), with Jon Lord ("Rock Meets Classic"), wrote and performed TV-series "Super Drumming" with the cream of the world's drummers (Louie Bellson, Cozy Powell, Ian Paice, Simon Phillips, Gerry Brown, Billy Cobham, Nicko McBrain, Zak Starkey, Dave Mattacks, Bill Bruford, Ed Thigpen, Mark Brzezicki, Steve Ferrone, Jon Hiseman etc.), played Tribute-Concerts to Gene Krupa, George Gershwin and Duke Ellington]